人白介素17 (IL-17) (Human)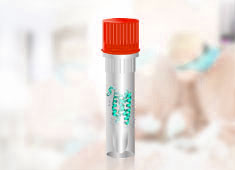 ---

产品描述:
Interleukin 17 (also known as CTLA-8) is a T cell-expressed pleiotropic cytokine that exhibits a high degree of homology to a protein encoded by the ORF13 gene of herpesvirus Saimiri. cDNA clones encoding IL-17 have been isolated from activated rat, mouse and human T cells. Human IL-17 cDNA encodes a 155 amino acid (a.a.) residue precursor protein with a 19 amino acid residue signal peptide that is cleaved to yield the 136 a.a. residue mature IL-17 containing one potential N-linked glycosylation site. Both recombinant and natural IL-17 have been shown to exist as disulfide linked homodimers. At the amino acid level, human IL-17 shows 72% and 63% sequence identity with herpesvirus and rat IL-17, respectively. An IL-17 specific mouse cell surface receptor (IL-17 R) has recently been cloned. While the expression of IL-17 mRNA is restricted to activated T cells, the expression of mIL-17 R mRNA has been detected in virtually all cells and tissues tested. IL-17 exhibits multiple biological activities on a variety of cells including the induction of IL-6 and IL-8 production in fibroblasts, the enhancement of surface expression of ICAM-1 in fibroblasts, activation of NF-κB and costimulation of T cell proliferation.

表达系统 :
Escherichia coli

溶解方法:
We recommend that this vial be briefly centrifuged prior to opening to bring the contents to the bottom. Reconstitute in sterile distilled water or aqueous buffer containing 0.1% BSA to a concentration of 0.1-1.0 mg/mL. Stock solutions should be apportioned into working aliquots and stored at < -20°C. Further dilutions should be made in appropriate buffered solutions.

产品组成:
Lyophilized from a 0.2 μm filtered concentrated solution in PBS, pH 7.4.

存储条件:
This lyophilized preparation is stable at 2-8°C, but should be kept at -20°C for long term storage, preferably desiccated. Upon reconstitution, the preparation is stable for up to one week at 2-8°C. For maximal stability, apportion the reconstituted preparation into working aliquots and store at -20°C to -70°C. Avoid repeated freeze/thaw cycles.

分子量:
Approximately 31.0 kDa, disulfide-linked homodimer of two 132 amino acid polypeptide chains.

内毒素:
Less than 1 EU/μg of IL-17 as determined by LAL method.

产品用途:
This material is offered by Cyagen Biosciences for research, laboratory or further evaluation purposes. FOR RESEARCH USE ONLY. NOT INTENDED FOR ANY ANIMAL OR HUMAN THERAP EUTIC OR DIAGNOSTIC USE.

生物学活性:
The ED50 determined by inducing IL-6 secretion of murine NIH/3T3 cells is less than 7.5 ng/mL, corresponding to a specific activity of > 1.3 × 105 IU/mg.

产品形态:
Sterile filtered white lyophilized (freeze-dried) powder.

氨基酸序列:
GITIPRNPGC PNSEDKNFPR TVMVNLNIHN RNTNTNPKRS SDYYNRSTSP WNLHRNEDPE RYPSVIWEAK CRHLGCINAD GNVDYHMNSV PIQQEILVLR REPPHCPNSF RLEKILVSVG CTCVTPIVHH VA

产品纯度:
> 95% by SDS-PAGE and HPLC analyses.