人白介素6(IL-6) (Human)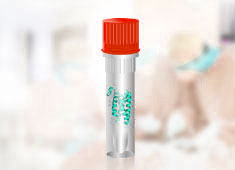 ---

产品描述:
Interleukin-6 (IL-6) is a multifunctional protein that plays important roles in host defense, acute phase reactions, immune responses, and hematopoiesis. According to the type of biological responses being studied, IL-6 was previously named interferon-β2, 26 kDa protein, B cell stimulatory factor-2 (BSF-2), hybridoma/plasmacytoma growth factor, hepatocyte stimulating factor, cytotoxic T cell differentiation factor, and macrophage-granulocyte inducing factor 2A (MGI-2A). The IL-6 designation was adopted after these variously named proteins were found to be identical on the basis of their amino acid and/or nucleotide sequences. IL-6 is expressed by a variety of normal and transformed cells including T cells, B cells, monocytes/macrophages, fibroblasts, hepatocytes, keratinocytes, astrocytes, vascular endothelial cells, and various tumor cells. The production of IL-6 is upregulated by numerous signals including mitogenic or antigenic stimulation, LPS, calcium ionophore, IL-1, IL-2, IFN, TNF, PDGF, and viruses. IL-6 expression in monocytes is inhibited by IL-4 and IL-13.

表达系统 :
Escherichia coli

溶解方法:
We recommend that this vial be briefly centrifuged prior to opening to bring the contents to the bottom. Reconstitute in sterile distilled water or aqueous buffer containing 0.1% BSA to a concentration of 0.1-1.0 mg/mL. Stock solutions should be apportioned into working aliquots and stored at < -20°C. Further dilutions should be made in appropriate buffered solutions.

产品组成:
Lyophilized from a 0.2 μm filtered concentrated solution in PBS, pH 7.4.

存储条件:
This lyophilized preparation is stable at 2-8°C, but should be kept at -20°C for long term storage, preferably desiccated. Upon reconstitution, the preparation is stable for up to one week at 2-8°C. For maximal stability, apportion the reconstituted preparation into working aliquots and store at -20°C to -70°C. Avoid repeated freeze/thaw cycles.

分子量:
Approximately 20.7 kDa, a single non-glycosylated polypeptide chain containing 183 amino acids.

内毒素:
Less than 1 EU/μg of IL-6 as determined by LAL method.

产品用途:
This material is offered by Cyagen Biosciences for research, laboratory or further evaluation purposes. FOR RESEARCH USE ONLY. NOT INTENDED FOR ANY ANIMAL OR HUMAN THERAP EUTIC OR DIAGNOSTIC USE.

生物学活性:
The ED50 determined by a cell proliferation assay using IL-6-dependent murine 7TD1 cells is less than 0.1 ng/mL, corresponding to a specific activity of > 1.0 × 107 IU/mg.

产品形态:
Sterile filtered white lyophilized (freeze-dried) powder.

氨基酸序列:
VPPGEDSKDV AAPHRQPLTS SERIDKQIRY ILDGISALRK ETCNKSNMCE SSKEALAENN LNLPKMAEKD GCFQSGFNEE TCLVKIITGL LEFEVYLEYL QNRFESSEEQ ARAVQMSTKV LIQFLQKKAK NLDAITTPDP TTNASLLTKL QAQNQWLQDM TTHLILRSFK EFLQSSLRAL RQM

产品纯度:
> 96% by SDS-PAGE and HPLC analyses.