人B细胞活化因子(BAFF) (Human)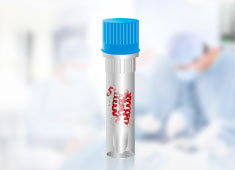 ---
产品描述:
B-cell activating factor (BlyS), also known as BAFF, TALL-1, TNAK, and zTNF4, is a TNF ligand superfamily member and has been designated TNFSF13B. Produced by macrophages, dendritic cells, and T lymphocytes, BAFF promotes the survival of B cells and is essential for B cell maturation. BAFF binds to three TNF receptor superfamily members: B-cell maturation antigen (BCMA/TNFRSF17), transmembrane activator and calcium-modulator and cyclophilin ligand interactor (TACI/TNFRSF13B) and BAFF receptor (BAFF R/BR3/TNFRSF 13C). These receptors are type III transmembrane proteins that lack a signal peptide. Whereas TACI and BCMA bind BAFF and another TNF superfamily ligand, APRIL (a proliferation-inducing ligand), BAFF R selectively binds BAFF. The BAFF R extracellular domain lacks the TNF receptor canonical cysteine-rich domain (CRD) and contains only a partial CRD with four cysteine residues. Human and mouse BAFF R share 56% aa sequence identity. BAFF R is highly expressed in spleen, lymph node and resting B cells. It is also expressed at lower levels in activated B cell, in resting CD4+ T cells, in thymus and peripheral blood leukocytes.

表达系统 :
Escherichia coli

溶解方法:
We recommend that this vial be briefly centrifuged prior to opening to bring the contents to the bottom. Reconstitute in sterile distilled water or aqueous buffer containing 0.1% BSA to a concentration of 0.1-1.0 mg/mL. Stock solutions should be apportioned into working aliquots and stored at < -20°C. Further dilutions should be made in appropriate buffered solutions.

产品组成:
Lyophilized from a 0.2 μm filtered concentrated solution in PBS, pH 7.0.

存储条件:
This lyophilized preparation is stable at 2-8°C, but should be kept at -20°C for long term storage, preferably desiccated. Upon reconstitution, the preparation is stable for up to one week at 2-8°C. For maximal stability, apportion the reconstituted preparation into working aliquots and store at -20°C to -70°C. Avoid repeated freeze/thaw cycles.

分子量:
Approximately 17.0 kDa, a single non-glycosylated polypeptide chain containing 153 amino acids.

内毒素:
Less than 1 EU/μg of BAFF as determined by LAL method.

产品用途:
This material is offered by Cyagen Biosciences for research, laboratory or further evaluation purposes. FOR RESEARCH USE ONLY. NOT INTENDED FOR ANY ANIMAL OR HUMAN THERAP EUTIC OR DIAGNOSTIC USE.

生物学活性:
The ED50 determined by a cell proliferation assay using anti-IgM stimulated murine B cells is less than 2 ng/mL, corresponding to a specific activity of > 5.0 × 105 IU/mg in the presence of goat anti-mouse IgM μ chain.

产品形态:
Sterile filtered white lyophilized (freeze-dried) powder.

氨基酸序列:
MAVQGPEETVT QDCLQLIADS ETPTIQKGSY TFVPWLLSFK RGSALEEKEN KILVKETGYF FIYGQVLYTD KTYAMGHLIQ RKKVHVFGDE LSLVTLFRCI QNMPETLPNN SCYSAGIAKL EEGDELQLAI PRENAQISLD GDVTFFGALK LL

产品纯度:
> 95% by SDS-PAGE and HPLC analyses.